Temporary Noise Barrier Fencing
Temporary noise barrier fencing (or noise tarp fencing) can be used to completely or partially enclose noise sources. PVC and vinyl-loadable fencing tarps can control noise by preventing the transmission of sound energy and absorbing vibration. The fencing tarpaulin can be hung at the doorway that causes noise sources (such as computer rooms). Just hang the mobile tarp fencing on a frame with casters to make a mobile temporary noise barrier fencing.
Industrial temporary noise barrier fencing can be installed quickly and economically, while providing greater noise reduction than any other material of similar size and weight.
Temporary Noise Barrier Fencing Specification
Thickness: 18mm, 15mm
Size: 1000x2500mm, 2000x1300mm
Structure: 4 layer, 3 layer
Acoustic Performance: 27dB, 15dB
Temporary fencing tarps are used for isolate or contain noisy equipment or operations, prevent dust, smoke and splash pollution, isolate or contain operators and bystanders, and separate noisy work areas from other areas.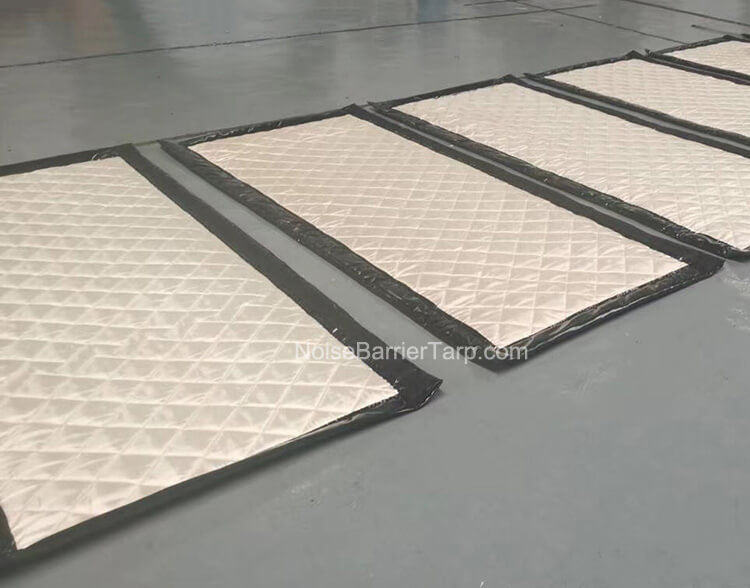 Temporary Noise Barrier Fence Application
Acoustic enclosure
Temporary noise barrier
Mobile sound barrier screen
Sound screen crossover
Sound insulation belt curtain
Sound barrier on construction site
Features and advantages of our noise fencing tarpaulin
Sound insulation wall is a commonly used temporary noise barrier fencing. The noise barrier fencing structure can easily be used as a partition wall in a factory, for example, an office area or an employee tea room can be isolated from the noise in the workshop. The temporary noise barrier fencing is made of materials that can resist the influence of the outdoor environment. It is an effective noise barrier for temporary fence that can resist traffic noise, refrigeration or air-conditioning equipment noise, and can be used to protect neighbors from your noise or yourself from others.
Contact us immediately to discuss any form of fencing tarps that may require noise reduction solutions. The noise tarp fencing is customized according to your exact size and environmental requirements. After choosing a solution, we will be able to manufacture and supply quickly. The temporary noise barrier fencing is easy to install with one or two persons.