Portable Noise Barriers Factory
More than 30% of the population are regularly exposed to noise that impacts negatively on their health. By using portable noise barriers, the effect noise has on individuals can be reduced. Traditional barriers are heavy and cumbersome, requiring two people to handle and install them. As the saying goes "time is money", the design of the portable noise barrier is specially considered for this.
Portable Noise Barrier Function
Weighs only 17 kgs for size 1×2.4m
Robust design hook
1 person can do 2 to 3 jobs
Installation speed is 3 times that of traditional guardrail
Unique roll-up banner design/easy to transport
Store flat or rolled up
Special installation kit
Live performance
The soundproof portable wall has been carefully designed to provide unique high-level technical performance. The portable sound proof barrier can provide the same performance as a soundproof portable wall that is twice the weight.
On-site performance results:
Reduce noise from off-site radiation
Reduce complaints and improve image
Better working environment/reduce occupational noise exposure
Increase working hours.
Rock drill reduced by 15 db (A)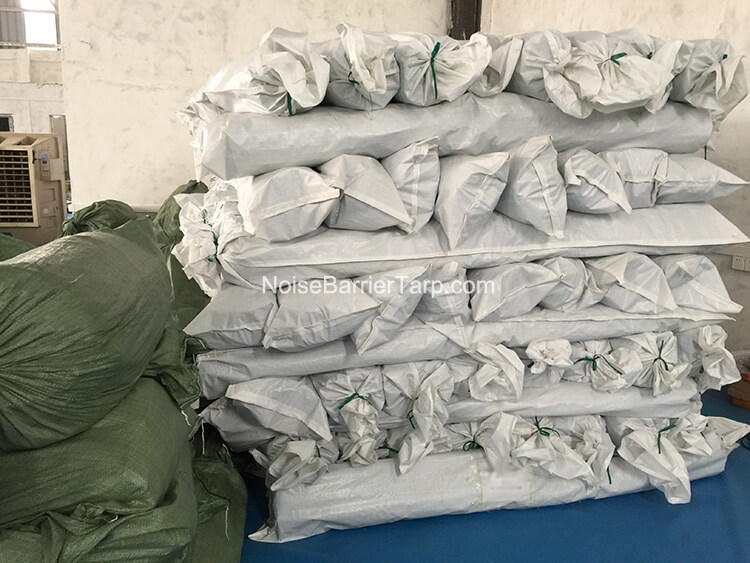 Durability
The portable outdoor walls are very durable and completely waterproof. The heavy PVC and mesh exterior make the flexible noise barrier strong and durable. Will not reduce performance and lose performance. Traditional barriers or stitched blankets are easy to pierce, absorb moisture and degrade. They become bulky, heavy and time-consuming to handle. Transport is messy and moldy in storage and the product become valid-dizzying.
Professional appearance
The unprofessional appearance of the site fence not only indicates a poor site image, but also increases the likelihood of complaints. Experience has shown that just a good appearance can increase the perceived barrier attenuation by 3-5dB. Portable noise barriers look good. The most important thing is to keep it that way. They reflect the user's commitment to the well-being of employees, local communities and the surrounding environment.
Positive outlook
Our portable noise barrier and temporary noise barrier aim to convey positive environmental and safety messages to reflect the attitude of users and the scene. We provide traditional fencing companies with the option to print company logos, advertisements and/or safety messages.