Temporary Noise Barrier Walls
Temporary noise barrier walls usually reduce noise in buildings and construction sites. The temporary wall barriers are installed quickly and are usually installed on metal fences to reduce noise. Other examples of its use are at music festivals, and can be practical solutions for generators or fixed factory installations.
Although this solution may be a quick and ideal temporary solution, it does have limitations due to the existence of materials and gaps that may allow noise to pass through.
Temporary Noise Barrier Walls Characteristics
PVC sound barrier
Excellent acoustic performance
Extremely durable
UV stable, suitable for indoor and outdoor applications
Can be hung into strips or sheets
Available in various sizes and colors
Made according to your exact requirements
Our temporary sound screens can be assembled into configurations and sizes that provide effective soundproof enclosures and barriers. The soundproof materials can simply be erected from the system, which can be easily slid and clamped together. Temporary noise barrier wall can be installed around internal machinery, external machinery and roof installations that need to reduce noise. The temporary noise barrier system is perfectly designed to combine soundproof doors, soundproof windows, visual panels, and passages for all services (such as electricity and ventilation) with soundproof walls to form a complete soundproof enclosure and room.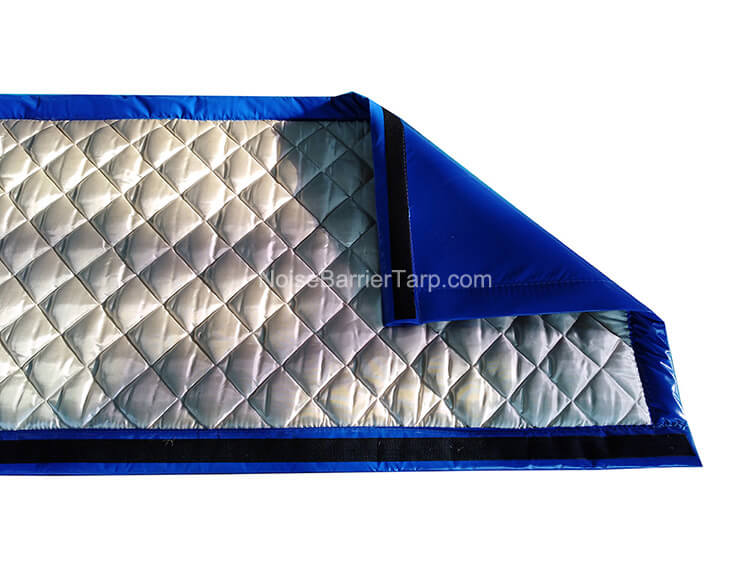 We also provide a series of mobile temporary noise barrier walls for occasions where noise control is required only during specific processes or when machinery is used intermittently. Mobile temporary sound screens are economical flexible noise control solutions for noise control in the workplace, where individual processes may require noise reduction measures one after another. Mobile temporary wall barriers can be transferred from each process in turn, thereby achieving effective noise control with minimal equipment and cost, and have the additional advantage that they can be easily moved to storage areas when they are not needed.
The temporary barrier solution we provide is easy to install. They can be moved again or permanently suspended in a fixed position, or they can be slid or folded on a suspended rail.